We are operating at reduced capacity due to COVID-19 Alert Level Three restrictions. Please only call our 0800 number if someone is at serious risk of harm or has been seriously injured, become seriously ill, or died as a result of work.
For other notifications please complete our online forms at Notify WorkSafe.
This safety alert highlights the significant health and safety risk to owners and users of caravans, motor homes or camper trailers which have certain models of suburban recreational vehicle (RV) water heaters running on LPG.
Appliance
Suburban RV water heaters (certified under AGA 4624)
Models affected
SW6DEA
SW4DEA
SW6DEA
SW6PA
SW6DA
SW4DA
SW6DECA (Dual Fuel)
Serial numbers affected
From 181315552 to 193002648
Also 8183311827 and 8190201139
Notes:
These were manufactured from 4 April 2018 to 1 August 2019.
Some serial numbers will end in a 'D'.
What happened?
Our counterpart for gas in South Australia has identified a fault in a type of gas water heater in which carbon monoxide was found to be entering a motorhome's cabin.
A recall of these water heaters is being considered Australia. These water heaters are also being supplied into the New Zealand market.
From 25 September 2019, the Australian Gas Association (AGA) suspended its certification (AGA 4624) on this range. New Zealand gas appliance importers (including caravan importers) may not supply gas appliances unless they have valid certification.
We have alerted the Product Safety group in the Ministry of Business, Innovation and Employment of the hazard and a possible recall from New Zealand suppliers.
What we know
Under certain conditions, these water heaters can generate elevated levels of carbon monoxide (CO) which, in some instances, may spill into the caravan, motor home or camper trailer. Carbon monoxide is a colourless, odourless gas that can adversely affect a person's health when inhaled.
Carbon monoxide can be lethal at high concentrations
The safety issues only apply while the appliance is operating on gas. If your suburban water heater can heat water from an electrical supply as well as from LPG, it is safe to continue operating the appliance from electricity only.
For more information on carbon monoxide, see dangers of carbon monoxide.
Our advice
Immediately stop using the appliance and do not allow anyone else to use this appliance.
Identify whether the water heater is one of the affected models, by checking if the serial number falls within the ranges listed in the table above. This can be done by checking the appliance data plates found under the front cover plate of the hot water heater (see instructions below). If you are unable to do this, your caravan service agent or a licensed gasfitter should be able to assist.
If the water heater has its own isolation valve, the valve to this appliance must be turned off until the appliance and installation has been rectified. This valve (if fitted) may be found in the cabin of the RV close to the gas inlet to the appliance.
Further safety notices or recall notices may be issued by the New Zealand importer of the appliance as to what actions are required to rectify the safety issues.
How to check your appliance's model and serial number
1. Remove the hot water heater cover plate
Make sure to let it cool first if the appliance has recently been used.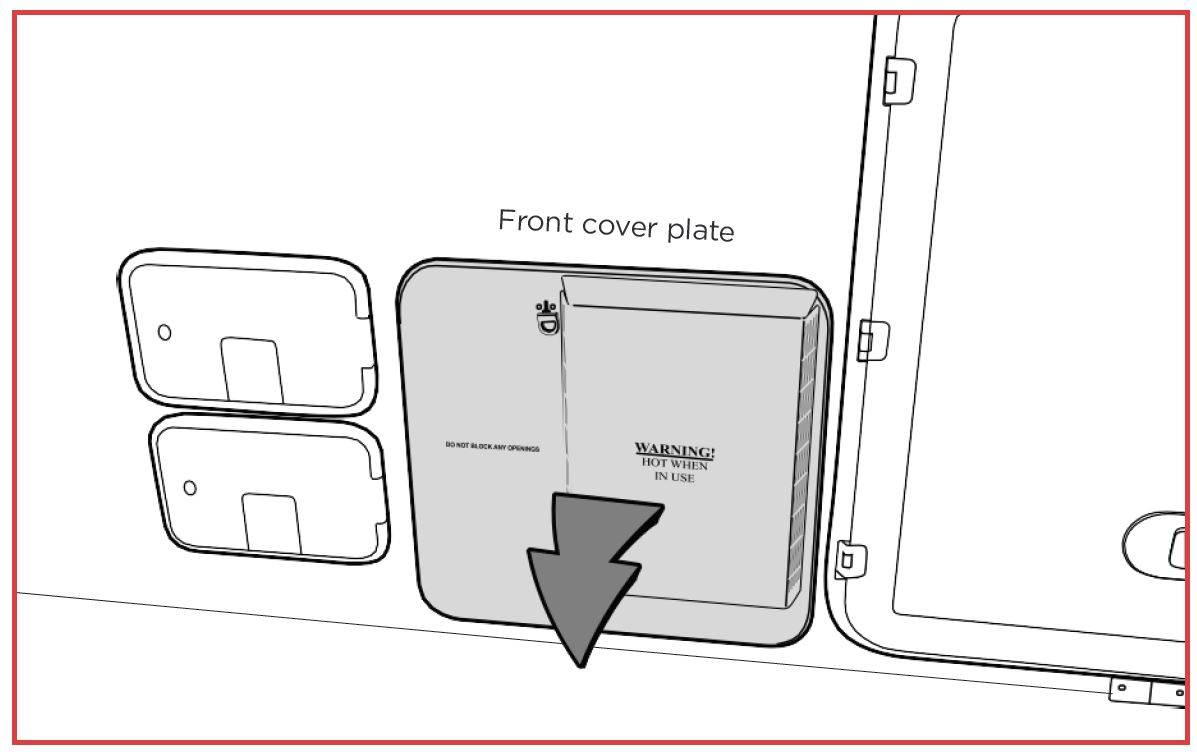 2. Locate the technical specification plates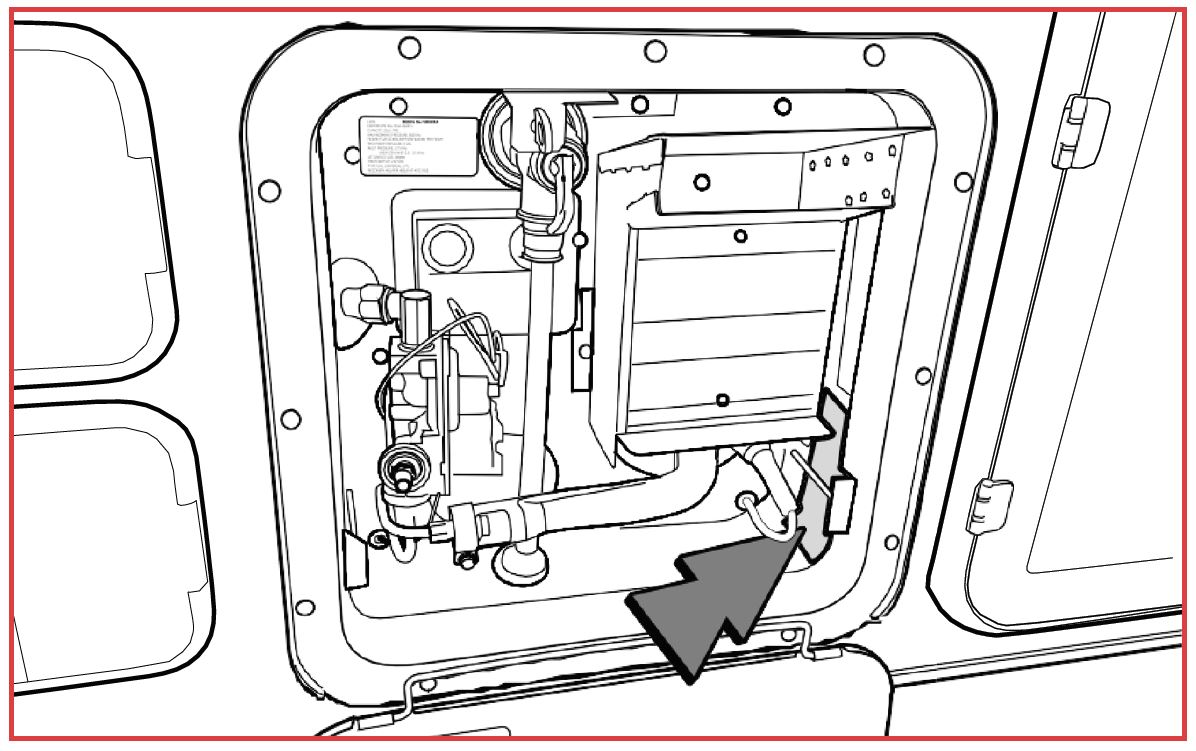 3. Check the model number and serial numbers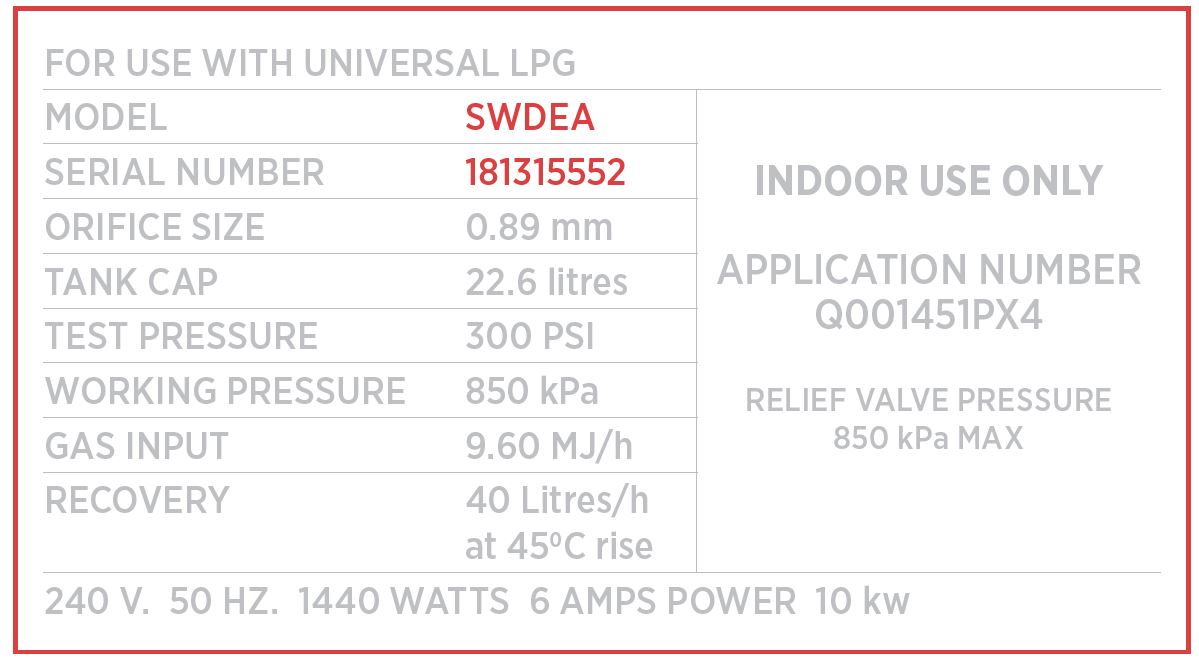 Download
Safety alert: Suburban recreational vehicle (RV) water heaters running on LPG