The vertical spindle moulder is one of the most versatile machines in woodworking. It can be used for mouldings, rebates and curved work. However, due to the risk of contact with the tool, and ejection of the tool part or workpiece, it can be hazardous if not used correctly.
While this guidance has not been updated to reflect current work health and safety legislation (the Health and Safety at Work Act 2015 and regulations), it may still contain relevant information and practices to keep workers and others healthy and safe.
Please read this guidance in conjunction with all relevant industry standards that apply to you as a PCBU. This guidance will be progressively reviewed and either updated, replaced with other guidance, or revoked.
Figure 1: Use of a jig for stopped or curved work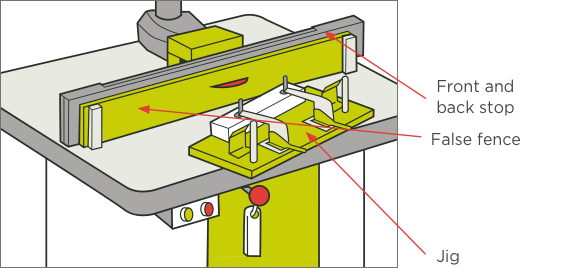 For stopped or curved work, a jig should be used with front and back stops and a false fence.
Figure 2: Use of false fence & side pressure pad

Using a power feed together with a false fence and side pressure pad, would create a suitable guard.
Hazards
Entanglement from contact with cutters
Contact or impact from ejection of tool part or workpiece
Noise
Dust
Slips, trips and falls
Contact, impact or entanglement from moving parts (during maintenance, cleaning & repairs)
Personal protective equipment (PPE)
Ear protection
Eye protection
Dust protection
Tasks
Task – Feed the workpiece to the cutter
Hazard
Entanglement from contact with cutters
Harm
Serious harm – amputation, bone fractures, and deep cuts to fingers and hands
Controls
FIX guards at all times to prevent contact with the cutter.
FIT jigs with fixed handles for stopped and curved work, to firmly hold the workpiece and keep hands away from the cutter.
USE power feeds/automatic feeding devices if guards or jigs can't be used.
USE a push stick or spike to guide a workpiece or clear away debris.
USE front and backstops for stopped work to prevent kickback.
FIT braking devices.
INSTALL false fences to close in the gap between the in-feed and out-feed fences.
Design MUST ensure that the spindle and those parts of the cutter behind the fence are enclosed.
NEVER wear loose clothing, and keep hair tied back to avoid entanglement
Types of guards include:
Adjustable
Fixed or interlocked (prevents access under the table to the spindle and drive mechanism)
Bell guard (when working with larger workpieces).
Hazard
Contact or impact from ejection of tool or part of workpiece
Harm
Serious harm or fatalities
Cuts or piercing
Bruising
Fractures
Controls
MARK cutting tools with maximum rotational speed, and DO NOT exceed.
DO NOT use unmarked tooling.
Only FIT tooling that conforms to the current required standards.
Tools marked 'MAN' ('manual feed') MUST be fitted to moulding machines for all hand-fed work.
Tools marked 'MEC' ('integrated or mechanical feed') should ONLY be fitted to moulding machines that operate with mechanical/power feeds.
Unsuitable or poorly maintained cutting tools are a hazard if the locking mechanism fails and the blades are thrown out.
Other (non-mechanical) hazards
Hazard
Harm
Controls
REDUCE noise levels by isolating machines or enclosing within noise barriers.
ASSESS noise levels.
ARRANGE hearing screenings.
ALWAYS WEAR hearing protection.
A safe noise level over an eight hour day is 85dB(A). A vertical spin moulder machine may exceed this noise intensity.
Hazard
Harm
Eye irritation or damage
Breathing problems, lung damage or cancer
Worsening of existing health problems
Controls
USE dust extraction equipment to minimise dust getting in the operator's breathing zone.
ALWAYS USE respiratory protection.
ALWAYS WEAR eye protection.
Hazard
Harm
Potential trapping
Cuts
Bruising
Controls
KEEP up-to-date housekeeping procedures.
KEEP the area around the machine clear of debris, off-cuts and stock.
WEAR footwear with a non-slip tread.
ENSURE adequate lighting.
Task – Maintenance, cleaning & repairs
Hazard
Impact or entanglement from contact with cutters
Harm
Controls
LOCK-OUT all power supplies before maintenance, cleaning and repairs.
CARRY OUT and DOCUMENT regular inspections and maintenance checks in accordance with manufacturer's specifications.
DO NOT clean or repair tools without appropriate training and supervision.
REPLACE guards and other safety devices before any trial cuts are made after tool setting or adjustments.
Unless already fitted with a manual brake, moulding machines designed, manufactured or supplied after 2001 should be fitted with a braking device that brings the cutting tool to a stop within 10 seconds; or within 30 seconds if the tooling is not accessible during run-down.
Older machines should be retro-fitted with a braking device.
Figure 3: Guard over cutters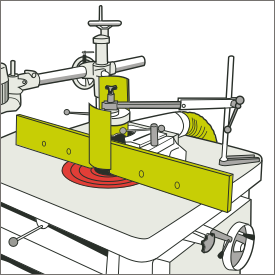 Figure 4: power feed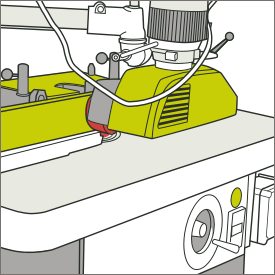 Figure 5: Jig for holding wood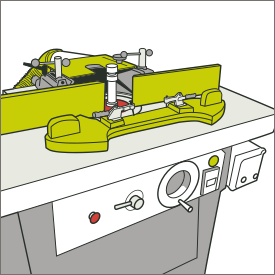 Download fact sheet