Dough mixers are used in bakeries to stir dough ingredients together. Mixing arms stir ingredients in a bowl or trough to produce dough of even consistency.
While this guidance has not been updated to reflect current work health and safety legislation (the Health and Safety at Work Act 2015 and regulations), it may still contain relevant information and practices to keep workers and others healthy and safe.
Please read this guidance in conjunction with all relevant industry standards that apply to you as a PCBU. This guidance will be progressively reviewed and either updated, replaced with other guidance, or revoked.
Small bowls may be emptied by hand; large bowls or troughs are tilted to pour out the dough.
Figure 1: Dough mixer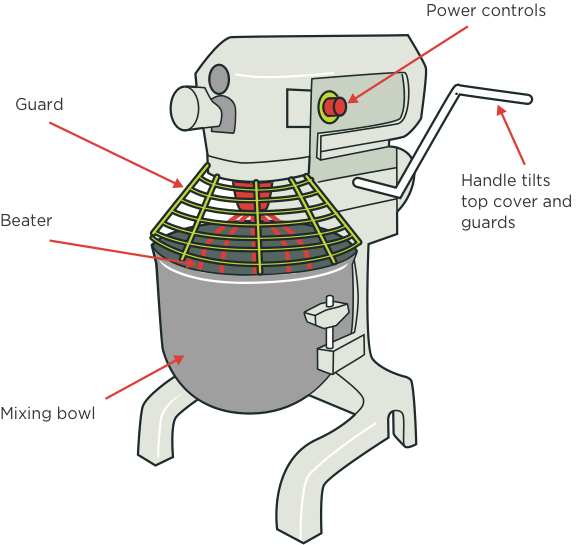 Figure 2: Large bowl mixer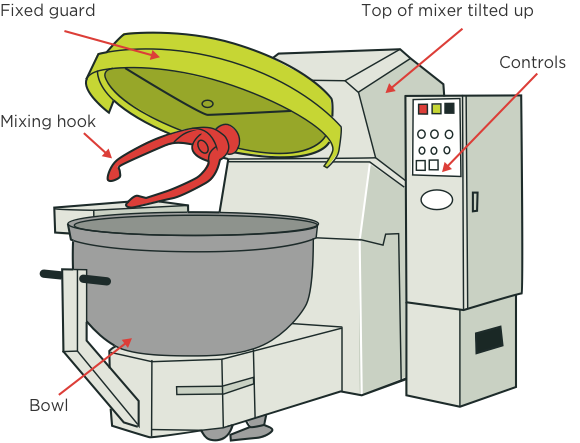 Figure 3: Mixing trough tilted with guard open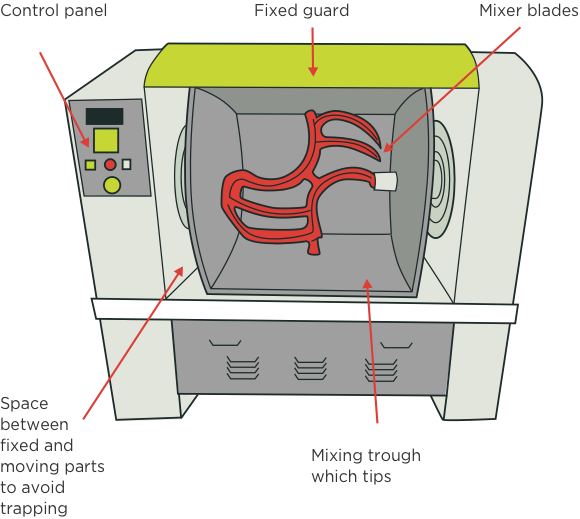 Hazards
Heavy lifting & turning
Entanglement in nips
Entanglement in mixer blades
Breathing in flour dust
Noise
Slips, trips and falls
Entanglement from unexpected movement (during maintenance and cleaning)
Personal Protective Equipment (PPE)
Ear protection
Hand protection
Foot protection
Dust protection
Tasks
Task – Load & unload
Hazard
Heavy lifting and turning
Harm
Controls
SUPPLY ingredients in small, manageable quantities.
USE mechanical aids to hoist ingredients
Frequent turns and lifts with heavy sacks will cause muscle strain.
Task – Mix ingredients
Hazard
Nips between mixer blades or between mixer blades and bowl, trapping hands or fingers
Harm
Crush injuries
Bruising
Fractures
Deep cuts
Controls
FIX guards to prevent or reduce access to trapping points between paddles, beaters or ribbons, and the mixing bowl.
ENSURE that guards are interlocked and operational.
RETROFIT guards to older mixers to enable addition of ingredients during mixing if required.
Operators should know how to stop a dough mixer before they start it.
Hazard
Nips between tilting and fixed parts of large mixers, trapping body parts
Harm
Crush injuries
Bruising
Fractures
Controls
PREVENT access to trapping points between the tilting bowl and the frame of tilting mixers.
PLACE the hold-to-run control for tilting the bowl in a fixed position at a safe distance from the tilting bowl, and with a clear view of all sides of the mixer.
Body parts can get caught between fixed and moving parts of the mixer.
Hazard
Entanglement in turning mixer blades
Harm
Scalping if hair is caught
Crush injuries
Controls
TIE BACK long hair and beards.
WEAR tight fitting clothes, especially tight fitting sleeves.
NEVER wear jewellery.
Safe dress is also required in a bakery for HYGIENE reasons.
Loose clothing, long hair, and jewellery can wrap around turning mixer blades.
Other (non-mechanical) hazards
Hazard
Harm
Lung damage
Breathing difficulties
Asthma
Nose, throat and eye irritation
Sensitisation through repeated exposure
Potential fire or explosion
Controls
Machinery MUST be controlled to hold flour as much as possible.
KEEP dust contained and controlled.
ENCLOSE and SEAL interlock switches against dust and moisture.
USE dust extraction equipment to minimise dust getting in the operator's breathing zone.
Vacuum cleaners MUST be designed for cleaning flour – blowing flour with compressed air will only move it elsewhere.
ALWAYS USE respiratory protection.
ALWAYS WEAR eye protection.
Hazard
Harm
Controls
REDUCE noise levels by isolating machines or enclosing within noise barriers.
ASSESS noise levels.
ARRANGE hearing screenings.
WEAR hearing protection.
A safe level of noise over an eight hour day is 85dB(A). A dough mixer may exceed this noise intensity.
Hazard
Harm
Controls
KEEP up-to-date housekeeping procedures.
CLEAN up spills early as possible, and display signage.
STACK materials neatly to keep walkways and production areas clear.
USE a degreasing solution on oil and grease spills.
USE slip-resistant floor coverings, and WEAR non-slip footwear.
Slips, trips and fall are common bakery accidents due to wet floors, spilled dough, batter, and dry ingredients, as well as uneven or obstructed floor surfaces.
Task – Maintenance, cleaning & repairs
Hazard
Entanglement from unexpected movement
Harm
Controls
LOCK OUT ALL power supplies before maintenance, cleaning and repairs.
FIT guards to any additional devices like a hoist.
FIT RETROFIT guards for older mixers to enable cleaning while the machine is not powered.
TEST emergency stops and interlocks at the start of each shift.
UNDERTAKE regular safety checks to ensure mixers are operating safely.
Operators MUST recognise faults and be aware of potential consequences. Instructions MUST be provided in a language understood by employees. If additional safeguards are required, they MUST be fitted by a competent person working to recognised safety standards.
Download fact sheet