Sheet metal moves in two axes (towards the back or front of the machine, and from side- to-side). When the tool begins to work, the sheet metal stops and the tool powers down to perform its operation.
While this guidance has not been updated to reflect current work health and safety legislation (the Health and Safety at Work Act 2015 and regulations), it may still contain relevant information and practices to keep workers and others healthy and safe.
Please read this guidance in conjunction with all relevant industry standards that apply to you as a PCBU. This guidance will be progressively reviewed and either updated, replaced with other guidance, or revoked.
On simple machines the operator will fasten the tool in the tool holder. On more complex machines, CNC instructions will tell the tool holder to select a tool from a magazine, and then carry out the programmed operations.
On some machines, the sheet metal is fixed, and the tool holder moves to the point of operation.
The CNC turret punch can perform the following operations:
Basic punching Extruding
Countersinks
Piercing
Slotting and recessing Forming tabs
Nibbling
Louvring
Creating ribs
Embossing
Coining
Creating hinges
The tool will form, mark, or cut out shapes from the metal sheet. Scrap metal falls through the machine bed for collection. Completed products are collected from the machine bed.
Figure 1: CNC turret punch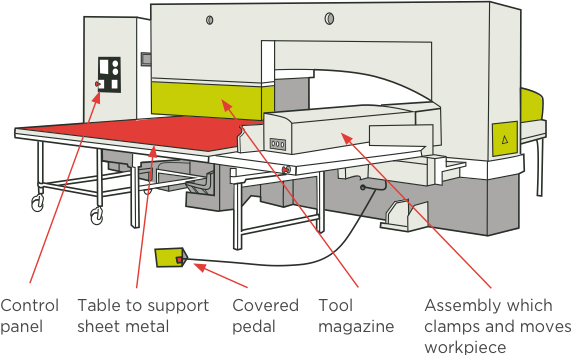 Hazards
Contact or impact from moving parts/unwanted movement
Hands or fingers trapped by tools/tool holder
Noise
Slips, trips and falls
Contact, impact or trapping from unexpected movement (during maintenance, cleaning & repairs)
Personal protective equipment (PPE)
Ear protection
Eye protection
Tasks
Task – Load/unload materials
Hazard
Contact or impact from moving parts/unwanted movement
Harm
Controls
DO NOT operate the turret punch during loading and unloading.
Task – Machining process (tool selection, programmed operations)
Hazard
Hands or fingers trapped by tools/tool holder
Harm
Controls
DEFINE a "no go" area around the machine, where entry is detected and machine movement stopped until the area is clear.
ENSURE that shutting down the main source of power also prevents unsafe operation of the control system.
Most tools operate so close to the sheet metal that they actually operate as a closed tool, that is, too close to the workpiece for fingers to reach between the workpiece and stripper plate. If the purpose of the tool is to form a shape above the sheet metal, eg. spikes on gang nails or louvres on the side of a cabinet, the tool may present an open space as it lifts above the sheet.
Other (non-mechanical) hazards
Hazard
Harm
Controls
REDUCE noise levels by isolating machines or enclosing within noise barriers.
ASSESS noise levels.
ARRANGE hearing screenings.
ALWAYS WEAR hearing protection.
A safe noise level over an eight hour day is 85db(A). A CNC turret punch may exceed this noise intensity.
Hazard
Harm
Cuts
Bruising
Contact or impact injuries
Controls
KEEP up-to-date housekeeping procedures.
KEEP the area around machines clear of slip and trip hazards.
Task – Maintenance, cleaning & repairs
Hazard
Contact, impact or trapping from unexpected movement
Harm
Crush injuries
Bruising
Fractures
Controls
LOCK-OUT all power supplies before maintenance, cleaning and repairs.
KEEP written safety procedures, and ARRANGE regular inspections by a competent person.
REMOVE or LOCK-OUT machines that fail inspection, and DO NOT USE until repaired or replaced.
When a machine is altered, eg. changes to guards or barriers, a new hazard assessment MUST be carried out, and safety improvements made.
Download fact sheet
CNC (Computer numerical control) turret punch