Article from the April 2017 issue of Safeguard magazine about the importance of protecting mental health at work.
The past few decades have seen a growing appreciation of the importance of good mental health and wellbeing at work. When we consider that reduced mental health is now the primary cause of lost working days in most Westernised countries and that the related at-work productivity loss (i.e. 'presenteeism') can be 1.5 times greater than the cost of absenteeism[1], it's clear that supporting good mental health has significant benefits to businesses and workers alike. Reflecting its importance, a range of different approaches to supporting workers' mental health have emerged:
enabling high levels of mental wellbeing (which some refer to as 'flourishing'[2]) by fostering a greater sense of purpose and regular positive emotions[3];
promoting good mental health and reducing the likelihood of common mental ill-health conditions through lifestyle changes or resilience building activities;
protecting workers' mental health from work-related psychosocial hazards that can lead to work-related stress, anxiety or depression.
Under the Health and Safety at Work Act 2015 (HSWA), Persons Conducting a Business or Undertaking (PCBUs) have a primary duty of care to provide a work environment that is without risk to health and safety, so far as is reasonably practicable. Whilst focus is typically given to reducing the risk of physical harm, HSWA importantly defines health as being both physical and mental. WorkSafe's expectations of PCBUs to have effective systems for protecting worker health, both physical and mental, from work-related factors before implementing activities to promote general health and wellbeing aligns to this legal emphasis (Figure 1).

Protecting mental health is an important factor for PCBUs to bear in mind as they develop their health and safety management systems.  In my experience, the seemingly invisible nature of factors affecting mental health leads many to focus their efforts on identifying and managing the mental ill-health outcomes that arise and building worker resilience to better cope with pressure. In essence, they take a medicalised approach to workplace mental health, rather than a risk-management approach to assess and manage risks that lead to mental ill-health.  WorkSafe's work-related health model (Figure 2) clearly highlights that psychosocial risks are a work risk in the same way that biological, chemical or physical risks are, and the focus on eliminating or minimising them should therefore be the same.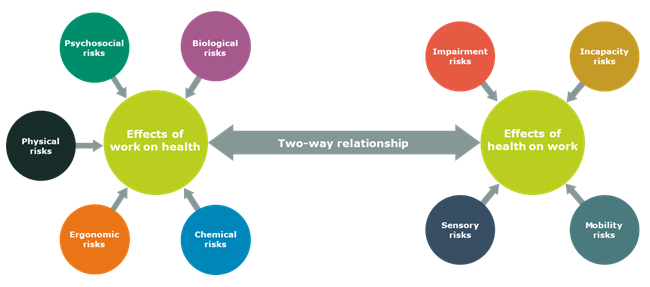 This focus on assessing and managing psychosocial risks (prevention) rather than solely focusing efforts on identifying and managing mental ill-health outcomes (treatment) isn't new or unique. The recent Canadian National Standard for Psychological Health and Safety in the Workplace emphasises a preventative approach through workplace psychosocial hazard management. Similarly, the UK HSE's 'Management Standards' focuses on six psychosocial factors that can affect the potential for work-related stress[4], such as work demands, worker autonomy and quality of work relationships.
An obvious and serious manifestation of when the risk of poor quality work relationships is not managed effectively is when workplace bullying occurs. Bullying is a serious work-related psychosocial hazard, causing significant physical and mental harm, and it doesn't just have its legal grounding in HSWA. It also has it in the Employment Relations Act's requirements to have productive working relationships through the promotion of good faith in all aspects of the employment environment and relationship. For some, this has meant that bullying has traditionally been seen as an HR issue, rather than a health and safety issue. In reality, it's an issue for both camps.
As the primary health and safety regulator, WorkSafe applies its engagement, education and enforcement levers as appropriate to support and enable effective health and safety risk management. Utilising our educative tools on this issue, WorkSafe has worked closely with stakeholders to update our 2014 guidance on preventing bullying in the workplace. This updated version is in line with HSWA and takes advantage of helpful feedback received on the earlier version, with strong emphasis on PCBUs taking a systematic and preventative approach to assessing, managing and monitoring bullying risk. It also provides resources for managers and workers, and guidance on further support and advice available from third parties, particularly that of the Employment Relations Authority.
See Worksafe's updated anti-bullying guidance
---
Footnotes
[1] Sainsbury Centre for Mental Health, (2007). Mental health at work: Developing the business case.
[2] Keyes, C.L.M., (2002). The Mental Health Continuum: From Languishing to Flourishing in Life. Journal of Health and Social Behaviour, 43 (2)
[3] Cooper, C., and Robertson, I., (2011). Well-Being. Productivity and Happiness at Work. Basingstoke: Palgrave Macmillan