On this page
26.1 Introduction to worker facilities
This section offers guidance for persons conducting a business or undertaking (PCBUs) on what facilities they need to provide road and roadside workers.
The Health and Safety at Work (General Risk and Workplace Management) Regulations 2016 outline what facilities a PCBU must provide for their workers at their workplace.
A 'workplace' is any place where a worker goes or is likely to be while at work, or where work is being carried out or is usually carried out. This includes temporary or mobile workplaces, which are typical of road and roadside work.
Facilities that must be made accessible to workers, so far as is reasonably practicable, include:
Toilets
Drinking water
First aid facilities
Hand washing facilites
Eating and rest facilities
Workers should be able to access these facilities freely and reasonably. Failure to provide access to adequate facilities for workers can cause short-term and long-term harm to workers' health and safety.
Make arrangements for how these facilities will be provided, or made accessible, in the planning stage of projects or activities. This is especially important when portable facilities may be required.
Any costs associated with making these facilities available should be included in initial project budgets or contract agreements. The contracting PCBU and the contractor both have a duty to make sure adequate facilities are accessible for workers.
Facilities must meet the needs of your workforce. Consider the:
size, location, and nature of your workplace
number of workers and composition of your workforce
nature of the work being carried out and workplace hazards.
The following sections provide examples of ways these facilities can be made available to road and roadside workers.
26.2 Facilities you must provide for your workers
Toilets
Workers must have access to clean toilet facilities. It is not acceptable for workers to use the surrounding environment.
Examples of how access to toilet facilities can be achieved include:
Installing portable toilets at static sites:

Portable toilets must be regularly cleaned. They must have hand washing and sanitising facilities available and have bins for sanitary products.

Transporting portable toilets on trailers for mobile operations.
Arranging for workers to have access to toilet facilities at local businesses.
For mobile urban work – providing workers with maps of where all the public toilets are (and allowing them paid time to reach these facilities if they are not within a reasonable walking distance).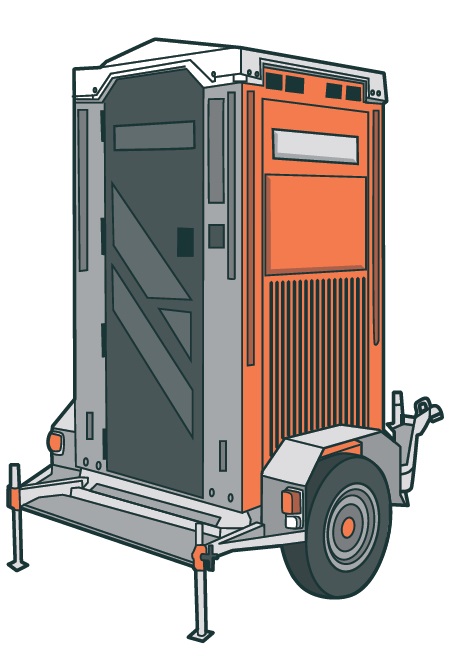 If workers have to travel long distances to reach toilet facilities, you should consider providing portable toilets. You shouldn't expect workers to use their allocated break time as travel time to reach facilities. Break times should be used by workers to rest, eat, and rehydrate.
Make sure there are enough workers on site to allow for a worker to leave the site to access toilet facilities without compromising site safety. For example, have a back-up traffic control certified worker available to fill in if a traffic control worker needs to leave their post to use the toilet.
Where there are multiple PCBUs working at a site, PCBUs can work together to provide competent back-up people for each other.
Hand washing facilities
Facilities must be available for workers to wash and dry their hands. Providing hand sanitiser may not always be sufficient – especially if there are biological risks present. For more information, see Section 11.0: Biological hazards
Hand washing facilities may be provided through installing portable facilities on site or arranging access to hand washing facilities at local businesses.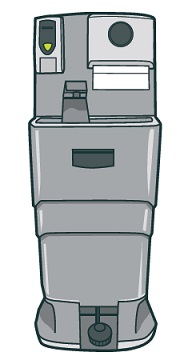 Drinking water
Workers must have access to fresh clean drinking water. This may mean transporting bottled water in vehicles for workers on mobile works.
Access to drinking water is particularly important when working in the summer, or in hot environments.
Eating and break facilities
Workers should have somewhere they can prepare and eat food during breaks. This area should be kept clean.
Workers should have a sheltered place to sit during break times.
This may mean providing heated break rooms in winter or air-conditioned break rooms in summer if the outside temperatures are very cold or hot. Having temperature-controlled break facilities will help workers avoid developing temperature-related illnesses. For more information, see Section 12.0: Temperature extremes
Vehicle cabs can be used when there is no other reasonably practicable option, as long as the basic requirements for worker rest can be met.
First aid facilities and resting areas
All workers must be provided access to first aid facilities and equipment, and first aiders.
Workers should also have access to a place to rest if they become unwell, and they are unable to leave the workplace at short notice (such as when working as part of a team in a remote area).
All workers must be given clear information about the first aid available at their workplace, including the:
location of first aid kits (this may include in work vehicles for mobile work)
names and locations of first aiders (on smaller work crews, consider if all workers should be trained to ensure coverage during absences)
location of a first aid room (if there is one)
procedures to follow when they need first aid.
This information should be given:
when a worker is first employed (for example, at induction)
when there is a change in the nature or location of their work
when there is a change in first aiders (for example, if a first aider leaves or a new one is added).
In mobile workplaces, make sure workers can contact first aiders or emergency services, and know how to respond in an emergency. For example, you could require workers to always carry the contact details of the nearest medical centre or hospital.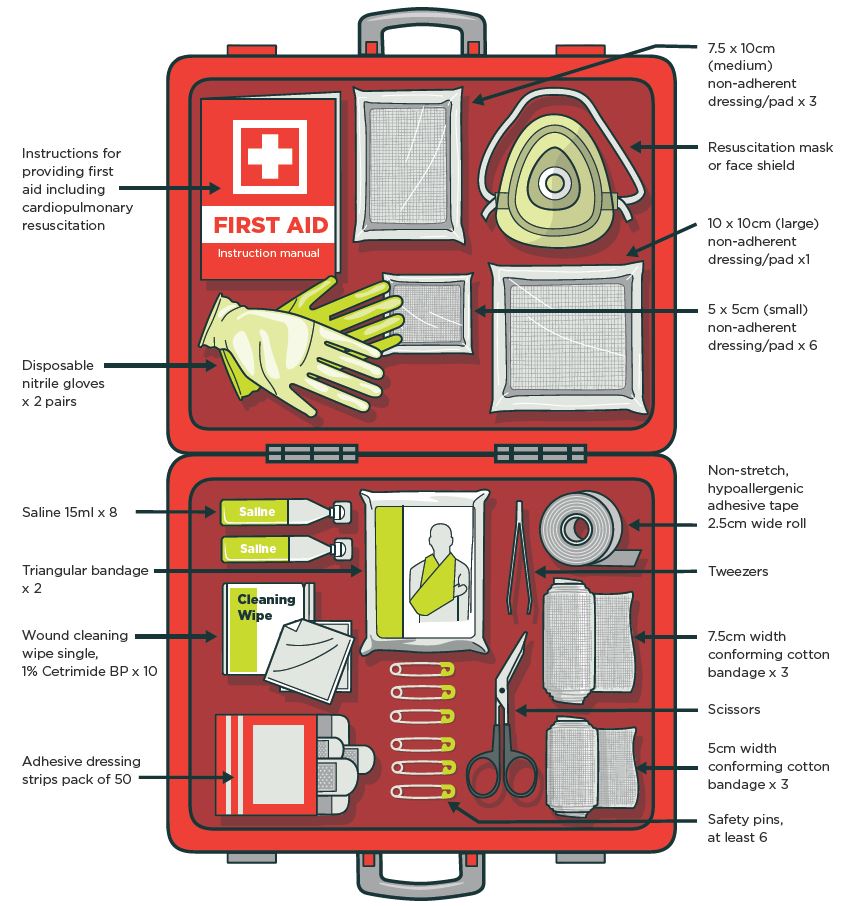 First aid kits
The contents of your first aid kit may vary depending on the type of work. See Figure 20 for an example of things to include.
First aid kits should be kept up to date. Check them regularly and replace any missing or expired items.
You may also need an extreme conditions kit in some situations. For more information, see Section 24.6: Winter driving kits
For more information on workplace first aid, see First aid at work
26.3 Additional facilities
Depending on the type of work, you may also need to provide the following additional facilities:
Facility
When to consider
Showers
If the work might result in workers needing to wash their body due
to contamination with potentially harmful matter.
Changing rooms
If the workers' clothing is likely to become contaminated or wet.
Lockers
If workers bring clothing that will not be used at work.
Table 8: Additional facilities
To provide these facilities, you can use mobile port-a-coms or the PCBU's local depot (travel time back to depot to use these facilities should be included in paid time).
26.4 Laundry facilities
If there is a risk of workers clothes being contaminated with harmful substances, these should not be taken home by workers to be washed alongside family washing.
While not required under the regulations, consider providing washing facilities at your local depot or arrange for contaminated work clothes to be commercially cleaned.
26.5 Worker accommodation
Sometimes workers are required to work in a remote location far from where they normally live. In these situations, PCBUs may provide accommodation for workers so they do not have to travel long distances each day to reach the worksite.
Where PCBUs are providing accommodation for workers, they must, so far as is reasonably practicable, maintain the accommodation so that workers are not exposed to health and safety risks arising from the accommodation.
Adequate facilities and amenities should be provided, and the accommodation should be kept clean. For more information, see Worker accommodation
26.6 Consider culturally appropriate practices when providing facilities
Where possible, keep food preparation areas separated from personal hygiene areas. Encourage workers to understand the importance of keeping tapu or sacred things separate from things that are considered noa or common.
Other examples include:
avoid sitting on tables
avoid leaving hard hats on food tables
avoid washing clothing and tea towels together.
26.7 More information on worker facilities