On this page:
16.1 Introduction to exposure monitoring
Exposure monitoring is the measurement and evaluation of exposure to a health hazard by a person at work.
This section offers guidance for persons conducting a business or undertaking (PCBUs) on how you can use exposure monitoring to:
identify, assess, and confirm health risks
identify where new control measures are needed
monitor how well current control measures are performing
identify when control measures need to be reviewed, updated, or removed.
Exposure monitoring is not a control measure. It does not replace the need for control measures to eliminate or minimise worker exposure to harm.
16.2 Exposure monitoring for road and roadside work
For road and roadside workers, exposure monitoring could include measuring and monitoring the following conditions in the work environment:
The level of noise workers are being exposed to.
The amount of asphalt fumes, chemical vapours, or other hazardous substances workers are being exposed to.
The amount of vibration workers' arms, hands, or whole body are being exposed to.
The amount of dust (including crystalline silica) workers are being exposed to.
Thermal stress (heat and cold).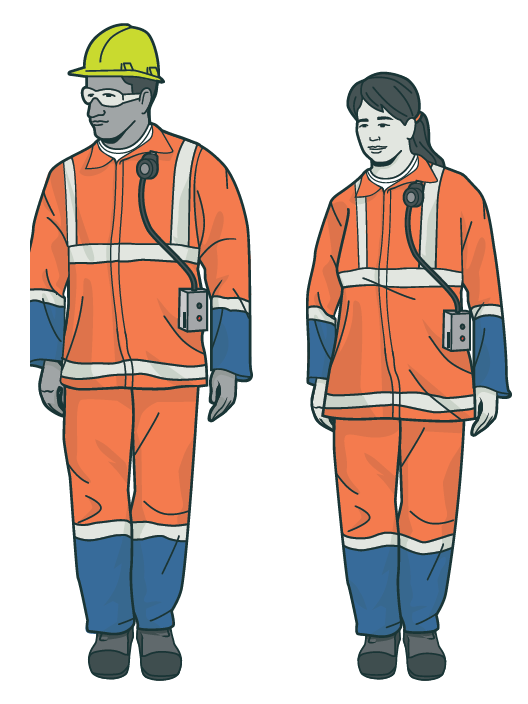 The type of monitoring depends on the kind of work you do.
You will need to talk to a suitably qualified and experienced health and safety professional who can advise what monitoring is appropriate and how often it needs to be done. You might need to carry out initial monitoring and then conduct regular (ongoing) monitoring.
All PCBUs in the contracting chain should work together to coordinate exposure monitoring activities. This may include the contracting PCBU or contractor providing support to subcontractors when planning how and who will undertake exposure monitoring.
16.3 Biological exposure monitoring
Biological exposure monitoring is another type of exposure monitoring. It usually involves taking blood or urine samples to test for a substance (or a metabolite of a substance) workers are working with.
PCBUs have consent and privacy obligations towards workers that must be followed when doing biological exposure monitoring.
For more information, see Section 17.4: Consent for health monitoring
16.4 Who can provide you with advice or carry out exposure monitoring?
Exposure monitoring should be carried out by a competent person, such as an occupational hygienist, who has the right knowledge, skills, and experience in appropriate techniques and procedures, including interpreting results.
Blood or other invasive samples should be taken by a health practitioner, such as an occupational health nurse or phlebotomist (for blood).
You can find a list of workplace health and safety professionals on the HASANZ website register(external link) or contact the New Zealand Occupational Hygiene Society(external link)
16.5 If exposure monitoring shows workers are at risk
If monitoring results show workers are being harmed or are at risk of being harmed:
you must take immediate action to eliminate or minimise the health risks to workers
you should alert all other PCBUs in the contracting chain who may also have workers at risk
all PCBUs should work together to address the risk that monitoring has highlighted.
If immediate control measures cannot be put in place, work should stop until the risk can be appropriately managed.
Consider setting up health monitoring to tell you if workers are experiencing health effects from potential exposures (where relevant). For more information about health monitoring, see Section 17.0: Health monitoring
16.6 More information on exposure monitoring