Workers who operate horticultural mobile elevating work platforms (H/MEWPs) in orchards, or other horticulture workplaces, are at significant risk of accidental contact with overhead power lines.
Download:
Working Near Overhead Electric Power Lines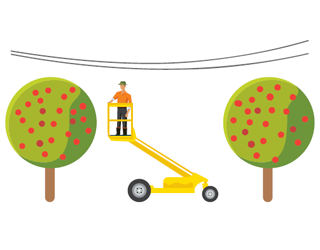 Key points
Always complete a risk assessment to identify any overhead powerlines in the work area before beginning work.
In your risk assessment outline how you're going to ensure that no machinery, people or equipment come within 4 m of any overhead power lines or 6 m of transmission lines. These distances must be observed by persons using H/MEWPs.
Eliminate any risks arising from working near overhead power lines. If you cannot eliminate a risk then you must put controls in place to minimise it.
Regularly review your property's risk plan for working near overhead power lines.
Work procedures
If you are operating an H/MEWP near live overhead power lines, then you need to have controls in place to ensure that any machine, person or equipment does not come within the safe distances of any overhead power lines.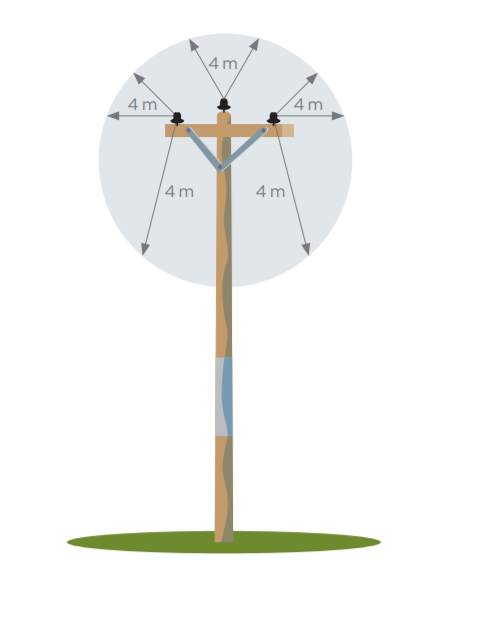 Below are some examples of controls you could put in place:
Ensure that H/MEWP operators are competent in the operation of their machines, thoroughly briefed and understand the dangers of working near overhead power lines.
Ensure that a competent safety observer is present at all times. A competent safety observer can be defined as a person who watches the H/MEWP to identify and warn the operator if they are getting too close to the safe distance zone or about any other hazards.
Ensure that the safety observer is able to maintain effective communication with the operators and alert operators or any other workers immediately if they, or any piece of machinery or equipment, are about to enter the safe distance zone. This should be the safety observer's sole task.
Safety observers should remain clear of the H/MEWP at all times and outside of the safe distance zone.
To avoid distractions, the competent H/MEWP operators should not use cell phones or any electronic equipment, or wear clothing which could impede their vision or movement while working in the defined area.
The competent operators working near overhead power lines should obey any instructions given by the safety observer.