When one of their workers was hospitalised with carbon monoxide poisoning, full service concrete contractor Angus McMillan Concrete took immediate steps to address the hazard – and raise awareness across the industry.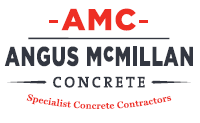 The employee had been using a petrol concrete cutter in a confined space and was affected by fumes, despite taking a number of safety measures. The company immediately stopped using petrol-driven machinery indoors and bought an electric concrete saw for use in confined spaces.
Carol and husband Angus founded the Hastings-based business 22 years ago, providing specialist concrete services countrywide. With a wide range of services provided, from boxing and foundation construction to place and finish, their 26 workers need to be versatile but the team also includes specialists in certain areas, including concrete cutting.
"We had identified our major hazards, including machinery, such as trowelling machines with sharp blades and cement cutting saws, and the risk from fumes when working in confined spaces," said Carol.
The job, which resulted in one of their experienced employees suffering carbon monoxide poisoning, was at a residential renovation project and involved cutting a 'chase' through an existing concrete floor in a 2 metre x2 metre bathroom. "We knew ventilation was an issue in the confined space so we discussed with him the steps he needed to take," said Carol. "He took a big extractor fan and we told him to leave both the bathroom window and door, and the front door open.
"However, there was a painter using oil-based paint working at the house too. Our man was concerned about fumes from the paint so he closed the bathroom door. He did everything else by the book but that was the one thing he didn't do.
"He also had a gas mask but we didn't know it wasn't effective against carbon monoxide – we know now that, in fact you can't get a gas mask that is.
The worker was taking regular fresh air breaks and the painter was keeping an eye on him – and during one of these checks found him feeling 'light-headed'. "The painter called an ambulance, and then our guy collapsed," said Carol. "I got a call and went straight over. He wasn't in a good space. I called his partner and followed the ambulance to the hospital. He had 40 per cent carbon monoxide in his bloodstream – 60 per cent is fatal."
"Fortunately he made a full recovery, but we immediately bought an electric concrete cutter. That is now the only tool we use for cutting in confined spaces. It cost about $2,500, not a huge investment. We would advise any business to do that, and never to use petrol-operated tools in confined spaces."
Rangi Pimm, one of the company's two concrete cutters, said: "The electric saw is awesome to use. Not only does it not produce any fumes, it also has a hose attachment which captures dust at source and turns it to slurry before it becomes airborne. "It was my colleague who was affected by the carbon monoxide. Carol and Angus got us both together as soon as they could afterwards and asked for our input on what the best substitute would be. We all agreed on the electric cutter and they went right out and bought it."
Carol and Angus also wrote up a report of the incident and shared it across concrete industry bodies the company is involved with, to raise awareness among other businesses. Carol said she found ringing WorkSafe to report the incident "scary" but ultimately the process proved a positive learning experience. "WorkSafe were awesome. They established the measures we had taken to try to ensure a safe workplace and an inspector came to look around and gave us advice about further steps to improve health and safety. They've continued to provide us with information and we are planning a H&S training day and will ask WorkSafe to take part in that."