COVID-19 poses significant challenges for businesses when operating under the different Alert Levels. For Nelson's Hot Rock Gourmet Pizza Pasta Bar, the sign in process has been embraced in an effort to help protect the wellbeing of both their staff and guests.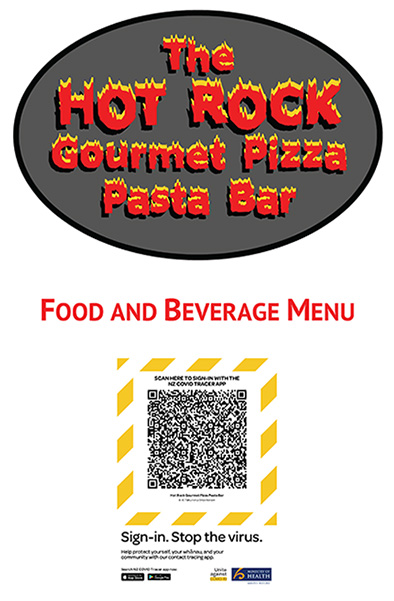 "We knew we had to do everything we could to protect our guests and staff under the different Alert Levels and making sure people signed in is the first step," explains Ray Weston, Owner of The Hot Rock.
"Since September last year we made it mandatory for all of our customers to sign in, using the COVID-19 tracer app or the sign in register."
To ensure everyone signs The Hot Rock makes it as easy as possible for customers, by including the QR code on their menu and as well as asking staff to remind people to do it.
"For those customers who don't have the tracer app, our staff bring the register to them at the table to make sure they sign in as well."
Alongside their sign in processes, The Hot Rock maintains a rigorous sanitization process, introducing both alcohol and non-alcohol-based sanitizers for their staff and customers.
"As per the COVID-19 guidelines we make sure we clean all of our tables in between customers and ensure our staff and customers are sanitizing their hands as needed. Introducing the non-alcohol-based sanitizer was something we did to ensure everyone had access to the sanitization products they needed."
For Ray and the team at The Hot Rock, COVID-19 has caused a significant shift in their processes, but to them, implementing these changes is just a case of keeping them and the rest of New Zealand healthy and safe.